Live stream Sidecarcross and Quadcross of
European Nations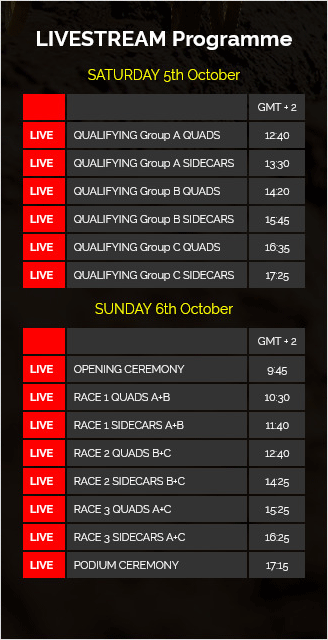 The outstanding success which was Slagelse, Denmark last year has prompted us to once again support the Nations competition with TV coverage. This great spectacle takes place over the weekend of 5/6th October, and once again will be beamed straight to you LIVE on www.fimsidecarcross.com www.sqmxon.live or https://fimsidecarcross.inplayer.com .
Courtesy of almost thirty skilled personnel and our dedicated TV crew, operating with seven cameras and many kilometres of cabling, our expert commentary will be handled by Bradley Hix with his guests from paddock. They will describe in finite detail all the action as it unfolds.
Our regular reporter Ieva Kuzma will be on hand to gather the inside stories from the sidecar cross world, whilst we are also delighted to welcome on board the very well-known Milena Krafthofer.
Milena is a quad-cross expert with a high profile Facebook page entitled Quad MX Live, whilst Ieva is well established as the face of the Sidecar Cross paddock. They will both be eliciting those all-important interviews as to what did, or did not happen, and why.
We go LIVE on Saturday at 12.40 CET starting with first qualifying race and follow events all afternoon until the final qualifying race is done.
Sunday is another full day of coverage giving you a total of over 10 hours of LIVE action over the weekend. We will not miss a thing, and therefore neither will you.
Everything will be available "Re-Live" immediately after each daily program.
A modestly priced full event pass will cost 25.00 Euros, giving you access to the entire LIVE weekend and all Re-Live.
SPECIAL BONUS for WSC fans and fans of SQMXON!
We care deeply about our loyal fans, and we appreciated all of you who committed to assist us in this new venture. For those diehard supporters who registered with us on WSC live project for the 2019 season, there is a 50% discount offer using a special promotional code starting today. To claim your 50% discount, quote WSC promotional voucher code WSCFANS.
AND – for those fans numbering in excess of 2,300 who registered with us at the end of 2018 for last year's Nations event, whether you actually paid an enrolment fee or merely expressed interest, there is a deal for you too, as a "thank you" from us. We are delighted to offer you a 25% discount using the discount voucher code SQMXON2019.
Everyone registered with us will be updated and informed via a newsletter, keeping you totally in the loop as to the latest developments.
These offers are aimed at demonstrating out appreciation for you – our ever-growing band of followers and loyal viewers, who have given us the motivation to continue to grow.
Our British facilities company INPLAYER.COM guarantee live-streaming to all devices, via a highly sophisticated and secure paywall, with twenty-four hour viewer support.
For all questions regarding login, registration, or payment please contact support@inplayer.com
This is another huge step for the world of sidecar and quad-cross, once more underlining the commitment and enthusiasm for our wonderful and spectacular sport.
To make sure you don't miss a thing, and you're in the front row for the action, get your event pass now.
WSC team