The worldwide source for information about
the wild sport of Sidecar Motocross racing

An International sport
Great racing photos, race schedules and results, discussion forum, for sale & wanted ads, links, and more.
Content covers all parts of the world where Motocross Sidecars are raced, including 20 European countries, USA, Australia, and New Zealand.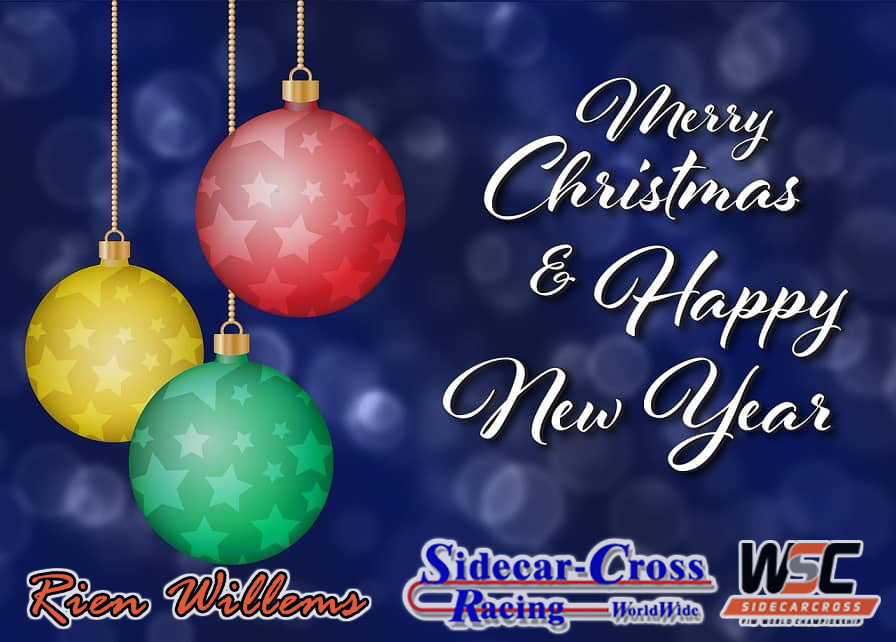 2021-11-26
Provisional calendar 2022
Since the 2021 season closer in Oss, the WSC team, the FIM and circuit organisers across Europe have been frantically busy working on a full season for 2022. The provisional results of that effort are potentially a ten-round World Championship embracing at least three exciting new venues and organisers, including an eagerly awaited return to the UK in Northern Ireland.
Whilst the cloud of Covid-19 still hangs over mainland Europe, with several countries still lagging in their mass vaccination programmes, the clear evidence is that once those measures are fully implemented, the pandemic will be being managed, and to a large degree controlled. Hopes are therefore high that a full season of top-class racing will happen as planned.
There has been much discussion as to the format of the race weekend, and it was generally felt that if a smaller number of GP's were to be scheduled (seven or less) then three points scoring races, as were implemented in 2021 would be preferable. If, however, there were to be ten or more GP's on the table, then it would be possible to revert to the two-race format, and the usual qualifying race on Saturday. Either way, twenty or more races for points would happen. There were mixed views in and around the paddock as to which format should be used. That firm decision will be made as and when the final calendar is set in stone. Final details on France and Ireland are still underway and will be advised in due course.
All dates are provisional, based on the global situation remaining stable, with no radical changes in legislation between countries. The proposed calendar is listed as follows:
FIM Sidecar Motocross World Championship – 2022 Provisionnal Calendar, 26 November
24/25 September – Sidecarcross and Quadcross of European Nations in Kramolin, Czech Republic.
2021-10-27
1st Youngster Quad & Sidecarcross Experience
during GP in Oss
The first Youngster Quads & Sidecarcross Experience was taken place during the Grand Prix of Oss.
With this unique collaboration of these beautiful branches of motorsport, initiated from the KNMV and picked up by WSC-Sidecarcross and Benjo Kellerman of Kellerman Quads Training, the intention is to enthuse and broadly promote young quad and sidecarcross racers.
It is important to give these two sports a lot of exposure to young people. The youngsters/youth riders of both disciplines know each other from the joint Quads and Sidecarcross competitions in the Dutch National Championships and ONKs.
Hopefully this meeting for the youngest riders will be a further development in that process.
Therefor we like to promote this concept all over Europe.
If you (organiser/federation/individual) are interested to develop this campaign in your country,  just leave us a message.
A short footage of our experience in the clip below.
2021-10-18
BAX-MUSSET World Champions 2021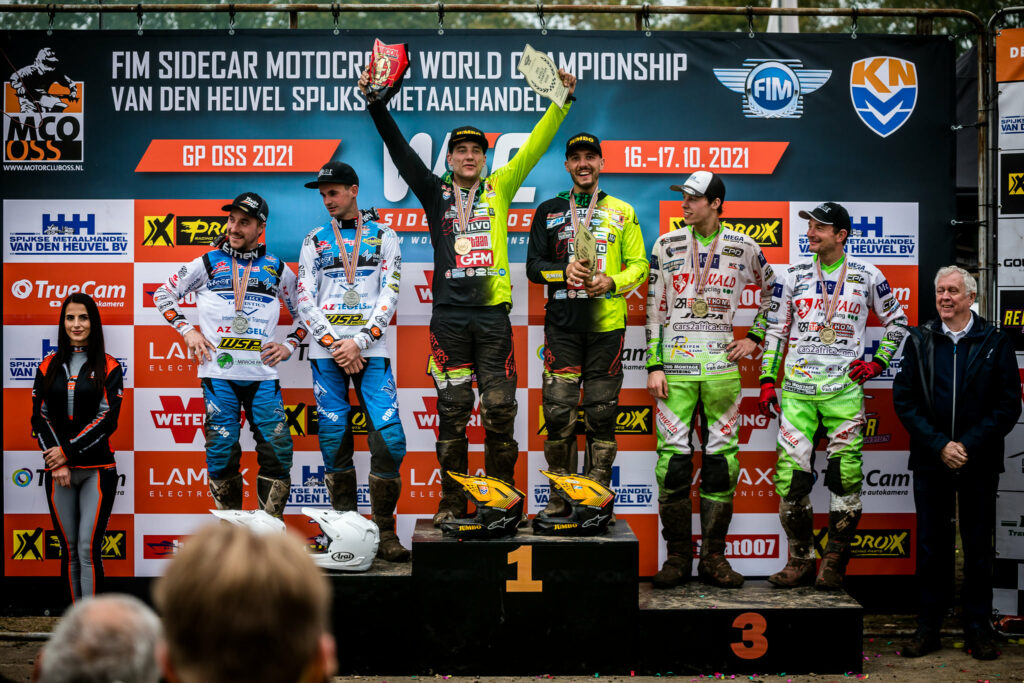 Final standing 2021 (top-10)
| | | | | | |
| --- | --- | --- | --- | --- | --- |
| PL. | NR. | NAME | NAT. | MOTOR | POINTS |
| 1. | 82 | Etienne Bax-Nicolas Musset | NED-FRA | WSP-Zabel | 264 |
| 2. | 2 | Marvin Vanluchene-Robbie Bax | BEL-NED | WSP-Zabel | 259 |
| 3. | 31 | Julian Veldman-Ondrej Cermak | NED-CZE | CPD-MEGA | 241 |
| 4. | 3 | Koen Hermans-Glenn Janssens | NED-BEL | WSP-Husqvarna | 207 |
| 5. | 6 | Kert Varik-Lari Kunnas | EST-FIN | WSP-Husqvarna | 186 |
| 6. | 111 | Daniel Willemsen-Rodolphe Lebreton | NED-FRA | WSP-Zabel | 140 |
| 7. | 14 | Justin Keuben-Dion Rietman | NED-NED | VMC-Zabel | 135 |
| 8. | 75 | Tim Leferink-Konstantinas Beleckas | NED-LTU | VMC-Husqvarna | 120 |
| 9. | 25 | Lucas Cerny-Bastien Chopin | CZE-FRA | WSP-JAWA | 104 |
| 10. | 99 | Thom van de Lagemaat-Robbe de Veene | NED-BEL | WSP-Zabel | 93 |
All results on: https://sidecarcross.com/2021/08/2021-gp4-oss-netherlands/
Complete final standing on:https://sidecarcross.com/2021/08/standing-worldchampionship-2021/
2021-10-14

Oss in the Netherlands awaits gripping WSC finale
The Sidecar Motocross World Championship has rarely seen such a close finish as we potentially have going into the final round in Oss, Netherlands over the weekend of 16-17 October.
Just four points separate the top three teams, but only one of those teams has yet to win a title. That is the Dutch/Czech pairing of Julian Veldman and Ondrej Cermak. The dynamic duo saved the best 'til last in Kramolin, winning the third and final race and gaining a one-point lead in the standings. In doing so, they took the red plate from Marvin Vanluchene and Robbie Bax.
The 2018 champion, by his own admission, was not at his best in the previous round, so will be acutely aware he needs to be on top form in the sand of Oss.
The big winners last weekend, Etienne Bax and Nicolas Musset sit third, but still have both eyes on title retention. Bax has been one of the first to acknowledge the improvement in Julian Veldman in terms of reliability and consistency. Bax has also hit peak form again at the right time, so with three races on the card, he has every reason to be optimistic.
Vanluchene has a clear objective, and with one of the best passengers in the sport alongside, he knows he must raise his game in Holland.
Mathematically, three others are still in the hunt. Kert Varik/Lari Kunnas have moved fourth, forty-three points off the lead, but nine points ahead of an improving Koen Hermans/Glenn Janssens, with Daniel Willemsen/Rodolphe Lebreton a further two points back.
Justin Keuben is the best of the rest going into Oss and whilst Dion Rietman did a sterling job in Kramolin, Keuben will be expecting Niki Debruyne back on the platform.
This truncated four-round season is far from normal, but nothing is very normal this year, so twelve epic races is what we will have been treated to in 2021, and it looks like being the closest race to the gold medal in history.
Is this the year we see a new name collecting that medal, or will a former champion team claw it back again? Everything will be revealed after next Sunday.
All the qualifying and race action will be live streamed over the weekend, with the usual highlights show following hot on its heels. Oss is the only place to be next weekend if you are a sidecar motocross fan.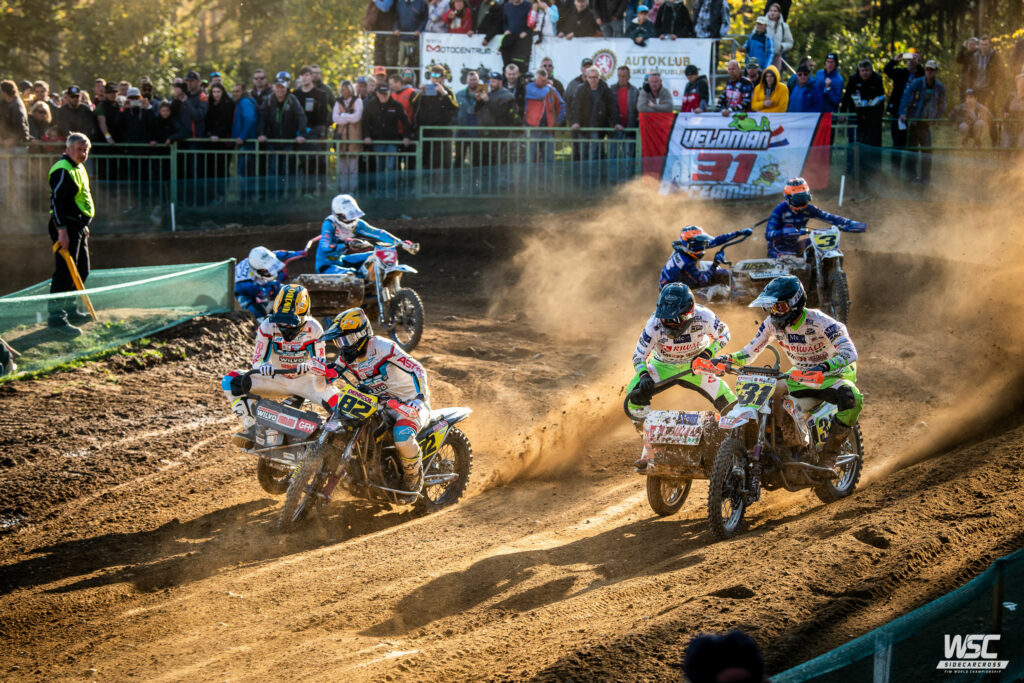 2021-10-07

More ACTION from Kramolin!
#VisitCzechRepublic

After so long being subjected to restrictions on our freedom, and curtailment of other privileges, this weekend in Kramolin gives everyone the perfect excuse to get out an enjoy the magnificent Czech countryside.
#VisitCzechRepublic our partner in the third GP of 2021 extend a warm welcome to you to come and share the atmosphere and immerse yourselves in what will be a terrific festival of motocross for three and four wheels.
Three points-scoring races each round certainly spices up the championship chase and we now have the top three crews split by just seventeen points.
Marvin Vanluchene and Robbie Bax held onto the red plate, but only just.
We are witnessing the most consistent and mature season so far from Julian Veldman/Ondřej Čermák. Since pairing up in the closed period, the young duo trained as often as they could in Čermák's homeland, scene of the next GP.
A stumbling start to the year left reigning champions Etienne Bax/Nicolas Musset playing catch-up, but they delivered in Estonia in style with two wins putting them well on track for Kramolin.
There has also been a strong showing from Estonian Kert Varik. He and his Finnish passenger Lari Kunnas, sit fourth, a mere nine points ahead of Daniel Willemsen/Rodolf Lebreton. The multiple champion is at the head of a group of Dutch crews which includes a new young talent in the shape of seventeen-year-old Tim Leferink and his Lithuanian passenger Kostas Beleckas.
Leferink sits between established names in the table, behind Koen Hermans and ahead of Justin Keuben.
The academy for young teams in the Netherlands has yielded some great riders, among them Julian Veldman, and he has visibly come of age this year.
The return to the Czech Republic will once again see the very best TV streaming facilities across the entire weekend, along with the best spectator experience due in large part to the involvement of #VisitCzechRepublic, a branch of the Czech Tourist board.
The non-stop weekend begins with free practice at 10:00 on Saturday and closes with the awards presentation at 17:00 on Sunday.
Camping facilities are available with the true party atmosphere always guaranteed at Kramolin.


To guarantee your camping place, and to purchase your admission ticket, WSC strongly advises you to visit the WSC website www.fimsidecarcross.com and review all of the options available.
More information on official ticket pricing available on https://bit.ly/2WNnsb9


To enter the event you have to proof one of the following COVID documents: proof of vaccination, evidence of COVID in last 180 days, PCR test (no older than 7 days), POC (anti-gen) no older than 72 hours. COVID LAB point will be available on-site as well. Antigen test (POC) will be priced approximately around 8 EUR per test.
2021-08-27
WSC HIGHLIGHTS TV SHOW
2021-08-18
LIVE STREAM from Jinin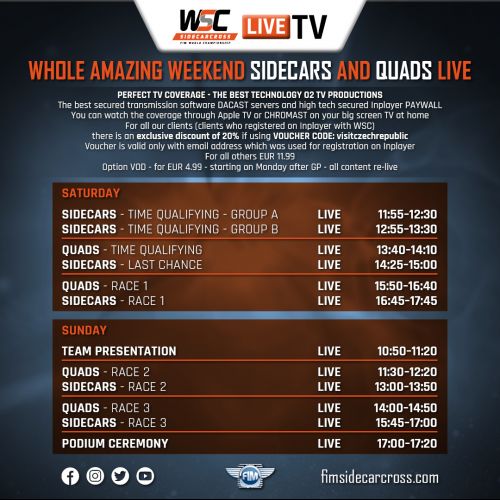 WSC Live TV offer for Jinin round one
Yes you can pinch yourself and no you are not dreaming, because WSC World Sidecar Motocross is back, and on one of the most spectacular tracks in the Czech Republic.
To add to what is already guaranteed to be a fantastic weekend, the sidecars welcome the EMX Quad Championship to their stage.
This entire extravaganza will be broadcast LIVE across the weekend utilising the skill and professionalism of O2 TV Productions, via the very best secured transmission software, DACAST servers and ultra-high-tech secure Inplayer .

Register and view the LIVE TV on: